PRINTING SERVICES: PRICING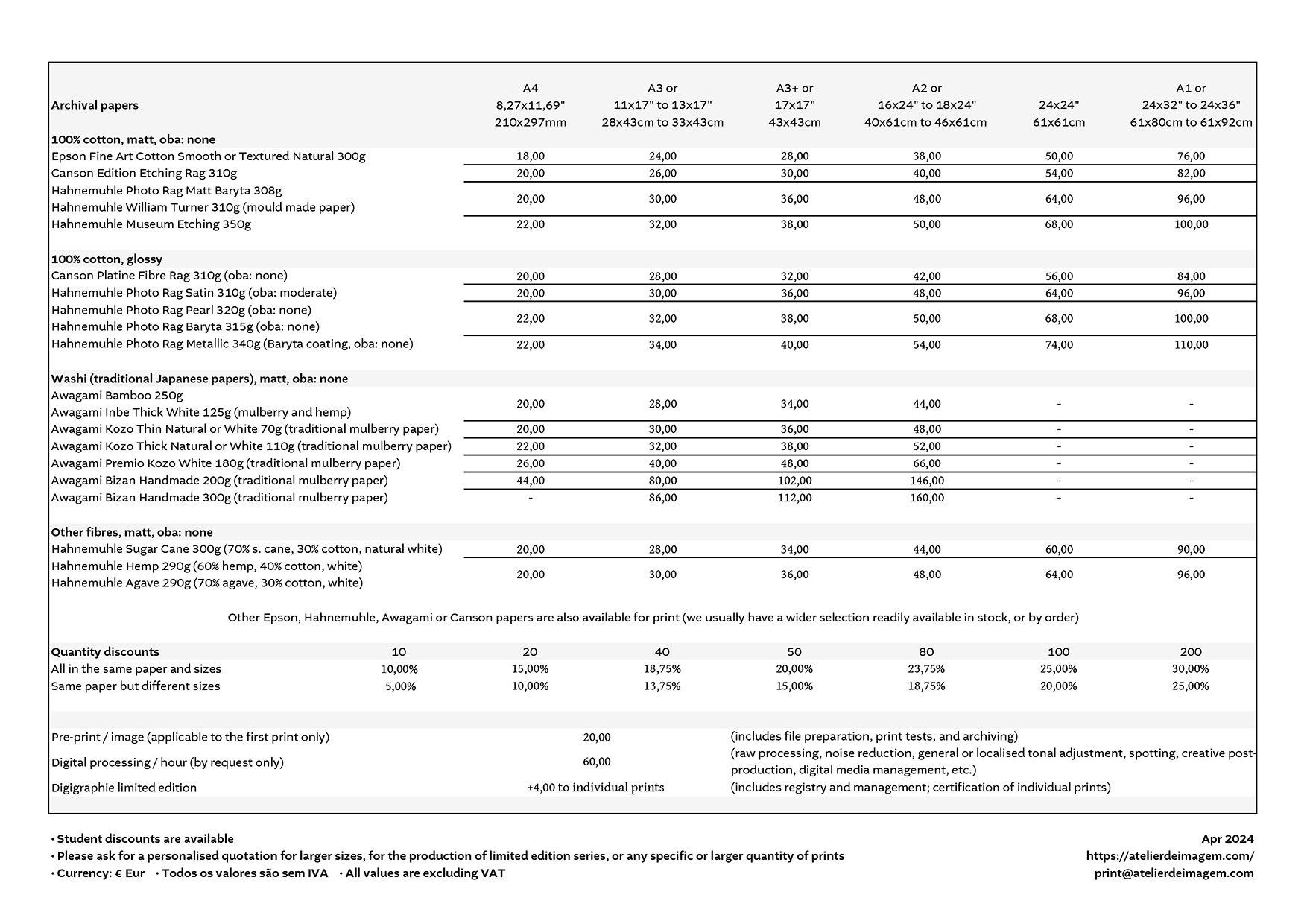 PRINTING SERVICES: OUR WORK PROCESS
1. Consultation
Personal conversation to talk about your needs, and the best options to suit your work. We can discuss paper options, budgets, technical aspects of the image file preparation, and all aspects of the planning of limited editions or exhibition materials. We always try to give the best advice possible towards the production of your prints.
2. Pre-print
We evaluate your files for any apparent technical problems, prepare them for print, and do test prints for our internal evaluation.
3. Evaluation
Per your request, we can deliver proofs for your evaluation, and discuss possible adjustments before we proceed with the production of the final materials.
4. Printing
5. Packaging for delivery or shipment
For further information, printing services, the production and certification of limited edition series, or for advice on the planning and production of materials for exhibition, please contact us:
Email: print@atelierdeimagem.com
(+351) 916 665 651 (English, Portuguese)
You can send us your files to print at https://atelierdeimagem.wetransfer.com/
Please note that we operate by appointment only. If you would like to pick up your prints yourself we are also happy to schedule a time. Thank you!
Para mais informações, serviços de impressão, produção e certificação de séries limitadas, ou para apoio ao planeamento e produção de materiais para exposição, p.f. contacte-nos:
Email: print@atelierdeimagem.com
(+351) 916 665 651 (Português, Inglês)
Pode enviar-nos os seus ficheiros para impressão em https://atelierdeimagem.wetransfer.com/
P.f. tenha em atenção que funcionamos por marcação apenas. Se desejar vir apanhar as suas impressões pessoalmente temos também todo o gosto em agendar uma hora. Obrigado!