LIMITED EDITION PRINT SALE, "UKRAINE MEANS COURAGE"
ROMANA RUBAN, KYIV, 2022
ALL PROCEEDS WILL GO TOWARDS DONATIONS TO HELP UKRAINE
(please see details below)
VENDA DE EDIÇÃO LIMITADA, "UCRÂNIA SIGNIFICA CORAGEM"
ROMANA RUBAN, KYIV, 2022
A TOTALIDADE DO VALOR REVERTE PARA DOAÇÕES DE AJUDA À UCRÂNIA
(por favor consulte os detalhes abaixo)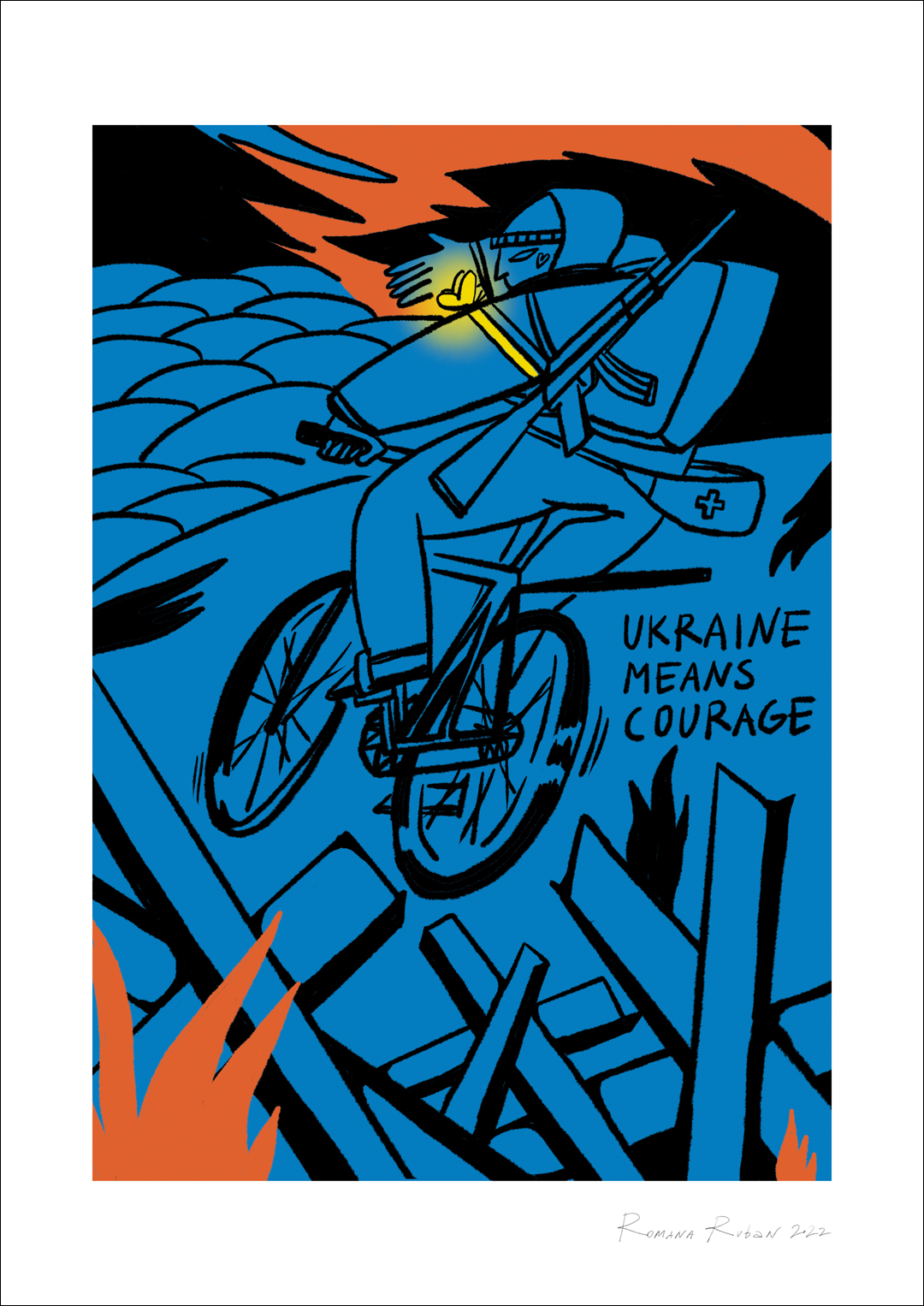 Romana Ruban
Ukraine means courage
2022
Pigment print on archival cotton paper
34 x 24cm on 42 x 30cm paper
Limited edition of 100 (numbered)
Romana Ruban is a young artist from Kyiv who works with illustration and has produced several children's illustrated books. She drew "Ukraine means courage" on day 9 of the invasion. We are producing this print in a limited edition of 100, on Hahnemuehle 100% cotton Photo Rag Satin 310g paper.
Contribution: 80 euros*
(but if you would like to contribute more, you are very welcome to send any additional value that you might wish)
The full total will be donated. A small percentage will go directly to support the artist, and all other values will be divided between donations to the Ukrainian defence forces, to the Voices of Children NGO (a Ukrainian non-governmental organisation which provides relief and support to children affected by the war), and the Hospitallers (volunteer frontline paramedics). If you would like to know more details or direct your purchase to any specific charity, please do get in touch.
* Please add 10 euros for packaging and shipping in Portugal, 30 euros within the European Union, and 45 euros in the USA. Any surplus from the estimated shipping costs will also revert back to donations.
Prints will be shipped within one week of purchase. Please provide us with your shipping address and invoicing details (contacts below).
Payments can be made via bank transfer or Paypal:
https://paypal.me/atelierdeimagem
IBAN – PT50003505490006402093062
Thank you!
Romana Ruban
Ucrânia significa coragem
2022
Impressão de pigmentos em papel de algodão de arquivo
34 x 24cm num papel de 42 x 30cm
Edição limitada de 100 (numerada)
Romana Ruban é uma jovem artista de Kyiv, que trabalha com ilustração e já publicou vários livros ilustrados para crianças. Ela desenhou "Ucrânia significa coragem" no dia 9 da invasão. Nós estamos a produzir esta impressão numa série limitada de 100, em papel Hahnemuehle Photo Rag Satin 310g 100% algodão.
Contribuição: 80 euros*
(mas se quiser fazer uma contribuição superior, agradecemos imenso qualquer valor adicional que possa desejar enviar)
O valor total será integralmente doado. Uma pequena percentagem vai reverter diretamente para apoiar a artista, e todos os valores restantes serão distribuídos por doações às forças de defesa Ucranianas, à Voices of Children (organização Ucraniana não governamental de apoio a crianças afetadas pela guerra), e aos Hospitallers (organização de paramédicos de linha de frente). Se quiser saber mais detalhes, ou direcionar a sua compra para alguma organização específica, por favor entre em contacto.
* Por favor adicione 10 euros para custos de embalagem e envio em Portugal, 30 euros para outros países da União Europeia, e 45 euros para os EUA. Qualquer remanescente do valor estimado de custos de envio será também enviado para as doações.
As impressões serão enviadas no prazo de uma semana depois da compra. Por favor indique-nos o seu endereço de envio e dados para a fatura (contactos no final da página).
Pode fazer pagamentos por transferência bancária ou via Paypal:
https://paypal.me/atelierdeimagem
IBAN – PT50003505490006402093062
Obrigado!